Picking out wedding invitations is one of the most exciting parts of planning a wedding! But it can also be stressful trying to find the perfect design within your budget.
If you're a bride-to-be contemplating ordering your invitations through Minted, I'm sure you have lots of questions about the quality, pricing, and convenience of their products. I was in the same boat not too long ago!
As someone who just used Minted's All In One wedding invitations for my own wedding, I wanted to provide you with an in-depth review.
I'll share details on the invitation designs, customization process, paper quality, and overall ordering experience.
I know how nerve-wracking it can be to commit to invitations without seeing them in person first.
But hopefully I can reassure you and help you make that all-important decision here today.
In a rush? Here is my Minted All In One Wedding Invitations Review:
Quick Verdict
With stunning designs, convenient all-in-one format, easy customization, and fast reliable shipping, Minted's All In One wedding invitations exceeded my expectations.
The high-end paper and printing quality coupled with time and money savings make these invitations an exceptional choice.
I highly recommend for any bride who wants beautiful, unique, and hassle-free wedding stationery.
What Are Minted All In One Wedding Invitations?
Minted's All In One wedding invitations combine the invitation, RSVP card, and envelope all in one convenient piece.
The invitation details and RSVP card are printed on the front side of a long sheet of high-quality cardstock.
On the backside, the recipient's address is printed.
When you fold up the cardstock, the outside becomes an envelope to hold the invitation safely inside.
Your guests can then simply tear off the RSVP portion and mail it back like a postcard.
This means you don't have to provide separate inner envelopes or loose RSVP cards and track them.
The all-in-one format contains everything your guests need in one elegant piece.
You do still need to provide stamps for sending the invitations and for guests to mail back the RSVP.
But you save money by not having to purchase envelopes or print additional response cards.
The folded style gives a modern, unique look compared to traditional invitation suites. And it's so convenient for both you and your guests!
There are around 1000 designs to choose from, curated from independent artists on Minted's marketplace.
You can even customize each design further, choosing between different color themes, foil colors and paper type.
To make life even easier, you can select from, and even filter all the options suitable for different style & themes (bohemian, botanical, classical, modern, rustic etc.) seasons and venues (ballroom, barn, garden, vineyard among others).
What I Like About Minted All In One Wedding Invitations
They Are Premium Quality
The quality of Minted's all-in-one wedding invitations is just beautiful.
There are so many talented artists that design gorgeous and unique invitations, and I was able to find the perfect one to match my wedding style.
The fonts they use are so elegant and pretty – it really elevated the whole look.
And the print quality is fantastic too – the colors on my invitations came out exactly as I expected based on the online proofs.
The paper quality is great as well, a really nice thick cardstock that looks and feels luxurious.
Convenience-Factor
In terms of convenience, they make the whole invitation process so easy.
The RSVP card tears off cleanly along a perforation so guests don't need to hassle with inserts.
This saved me time and hand cramps from having to stuff envelopes on my own.
It also saved money on buying separate RSVP cards and envelopes since it's all one piece.
I loved that they offer free recipient addressing and make managing the guest list online a breeze.
Choice & Variety
There are so many designs to choose from at Minted, whether you want something simple and clean or bold and colorful.
I was able to order samples to see and feel the paper before fully committing.
Looking at the different styles also provides some insight into the formality of your event.
Practicality Aspect
The all-in-one invitations are so practical too.
It was easy to get them ready to drop in the mail – just add stamps, fold, and use the clear sealing stickers they provide.
The folded style with postcard RSVP is straightforward for guests and they don't have to hassle with loose inserts.
Several people commented how unique and convenient they were.
It saves money compared to buying separate response cards and envelopes.
I also loved that guests could easily mark their dinner options, avoiding any confusion later.
The Proof Process Is Great
After I saw the online proofs, I was able to tweak the design a bit and Minted quickly turned around the revisions.
My order arrived a full week before expected which was so nice!
Cant Ask For Better Shipping
The shipping with Minted was incredibly fast and affordable. After finalizing my order, I expected it to take about 2 weeks for the invitations to arrive.
But they surprised me by delivering them a full week earlier than estimated!
I was relieved when the shipment notification came so soon – one less thing to stress about as the wedding got closer.
The invitations were neatly packaged and nothing was damaged during transit.
Minted offers different shipping options based on how quickly you need the order. I went with the standard shipping since I placed my order with ample time.
But they have rush shipping available at reasonable upcharge costs if you're pressed for time.
The standard shipping fees were very affordable in my opinion, especially considering the high quality service and fast delivery.
The shipments also come with tracking so you can follow along each step.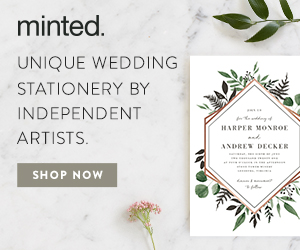 What I Don't Like About Minted's All In One Wedding Invitations
Overall, I have very few complaints about Minted's All In One wedding invitations. The only real downsides I experienced were pretty minimal.
It Would Be Handy If You Received A Few More Extra Stickers
They include just a couple of extra sealing stickers, so you have to be fairly careful not to mess up or accidentally stick them to the invitation itself since there aren't many extras provided.
I'd recommend going slowly and precisely when applying the stickers to seal them.
You Need To Plan Ahead
Also, if you need to make any text revisions after seeing your proof, keep in mind that it may add a bit more time for the changes to be implemented versus just receiving a confirmation of your original order.
But the customer service team was very responsive whenever I requested alterations.
How Long Does It Take To Get Wedding Invitations From Minted?
It takes between 3-7 business days to get wedding invitations from Minted, depending on the shipping option you opt for.
Minted provides several shipping options to fit your timeframe.
Standard shipping is the most budget-friendly at $3.95 to $9.95, with invitations arriving within 4-7 business days.
This was the best option for me since I placed my order well in advance.
For more pressed timelines, Minted offers priority shipping for $14.95 (5 business days), expedited for $24.95 (4 business days), and rush for $34.95 (3 business days).
I was thrilled when my invitations actually arrived a full week earlier than expected with standard shipping.
But it's reassuring to have those expedited shipping upgrades if your wedding is quickly approaching.
Minted processes invitation orders quickly, so you can expect your delivery timeframe to start as soon as 1-2 business days after final order approval.
Add the shipping days on top of that.
With their fast processing and reliable shipping partners, your Minted wedding invitations will be in your hands before you know it!
Order early and opt for standard shipping to keep costs down.
Final Verdict: Should You Buy Minted's All In One Wedding Invitations?
After my overwhelmingly positive experience, I can't recommend Minted's All In One wedding invitations enough.
There's a reason Minted is considered the #1 supplier of wedding stationery – their quality, customer service, and convenience are unparalleled.
The all-in-one design provides beautiful invitations that are easy for you to prepare and straightforward for guests to RSVP.
Minted makes the process stress-free and joyful.
If you're still on the fence, I suggest ordering samples of your top design choices.
Seeing and feeling the luxe paper yourself will likely convince you.
For my wedding, Minted invitations were the perfect combination of elegance, affordability, and convenience. I hope you'll love them as much as I do!
Related guides you may want to read:
Hey, I'm Allison – a recent bride, an expectant mother and the chief editor here at Everlasting Occasion. Here I document all the knowledge and experience I accumulated while researching and planning my dream wedding and ahead of our new baby. Here, I try to answer those many questions couples have when planning their dream wedding, while equally, helping expectant parents ahead of their new arrival!